2.8L Duramax Colorado/Canyon Spade
2016-2020, 2.8L Duramax Colorado Canyon Tuning w /License
+50HP and 80Ft-lbs w/Tuning only
4-position Switchable on-the-fly! ;
From $499.00
To $1,317.00
Duramaxtuner.com is the most trusted source for custom 2.8L Duramax Tuning! 
The 2.8L Duramax in its factory trim is rated at 180 HP by GM and carries a full complement of emissions equipment to keep it clean and quiet.  Backing up the new powerplant is the 6L50 transmission.  Both the engine and transmission use existing powertrain control modules which have allowed the team at Duramaxtuner.com to quickly gain access and make improvements. Over the past several months, we've worked with our customers and in-house on our truck to develop and test tuning for this platform. After hundreds of revisions, we're happy to have a product that significantly outperforms GM's calibration in power, driveability, and mileage.  
By working through the engine and transmission calibrations together we significantly widened and raised the factory torque curve, settling on a peak of 460Ft-Lbs which is very near the rated capacity of the transmission.  With the wider torque curve, we're able to shift the truck sooner and engage torque converter lockup sooner without bogging the truck.  This means less operating RPM and ultimately lower fuel consumption numbers.  Best of all, these calibrations work without any other modifications to the truck, meaning that you still get a quiet, clean, smokeless truck that can be returned to stock at any point.  
Tuning on the 2.8 Duramax for the Canyon/Colorado includes 4 power levels switchable on the fly as follows: 
1. (Optimized Stock +10HP) - Power level near stock for towing at or over max GVWR.  Also useful for when the truck is driven by those who do not need the extra power and torque.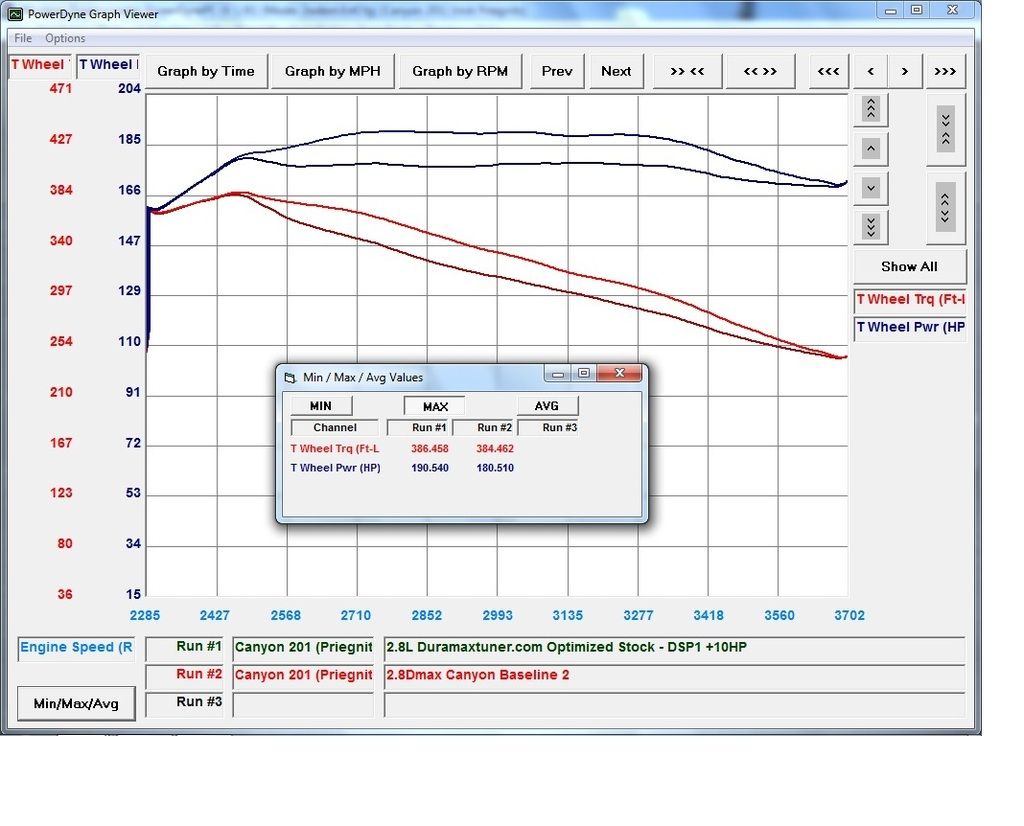 2. Tow Tune (+32HP/30Ft-lbs) - This file is designed to incorporate appropriate power and torque gains for use when towing.  Greatly improves your ability to get the load up to speed and maintain it on grades or while passing.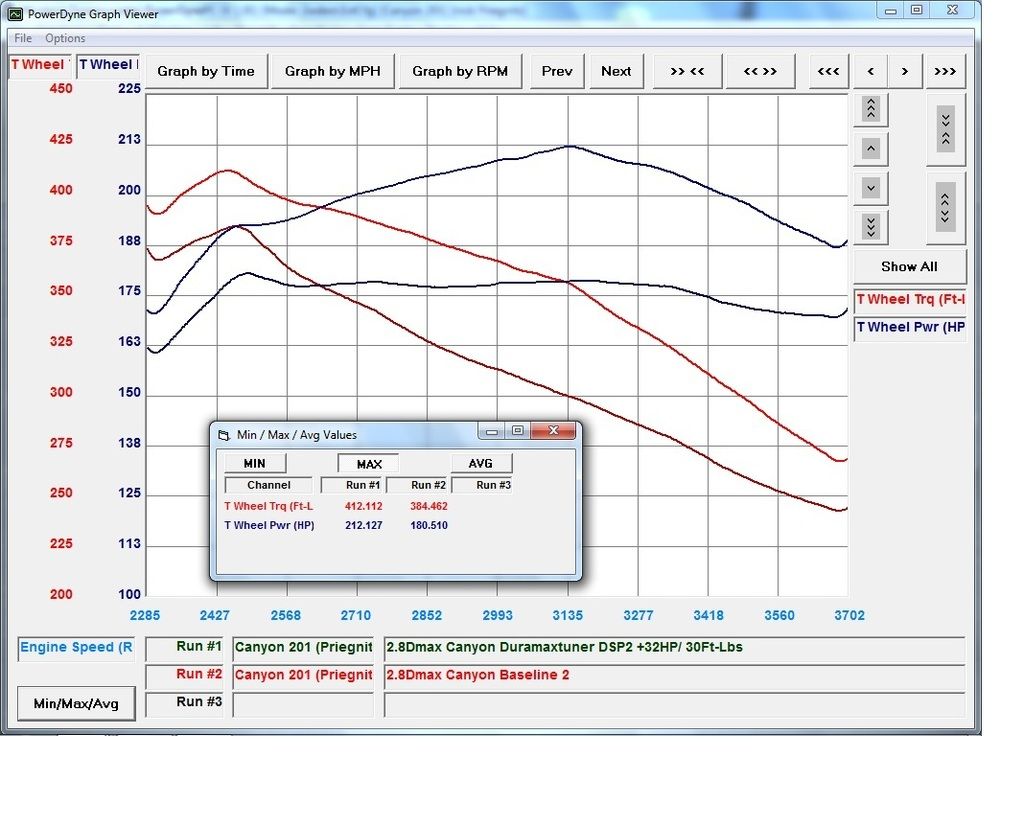 3. Sport Economy Tune (+45HP / 60Ft-Lbs) - A very fun tune that is recommended for daily driving use in unloaded scenarios.  This tune has a little bit too much mustard for extended high output pulls such as those you'd encounter while towing.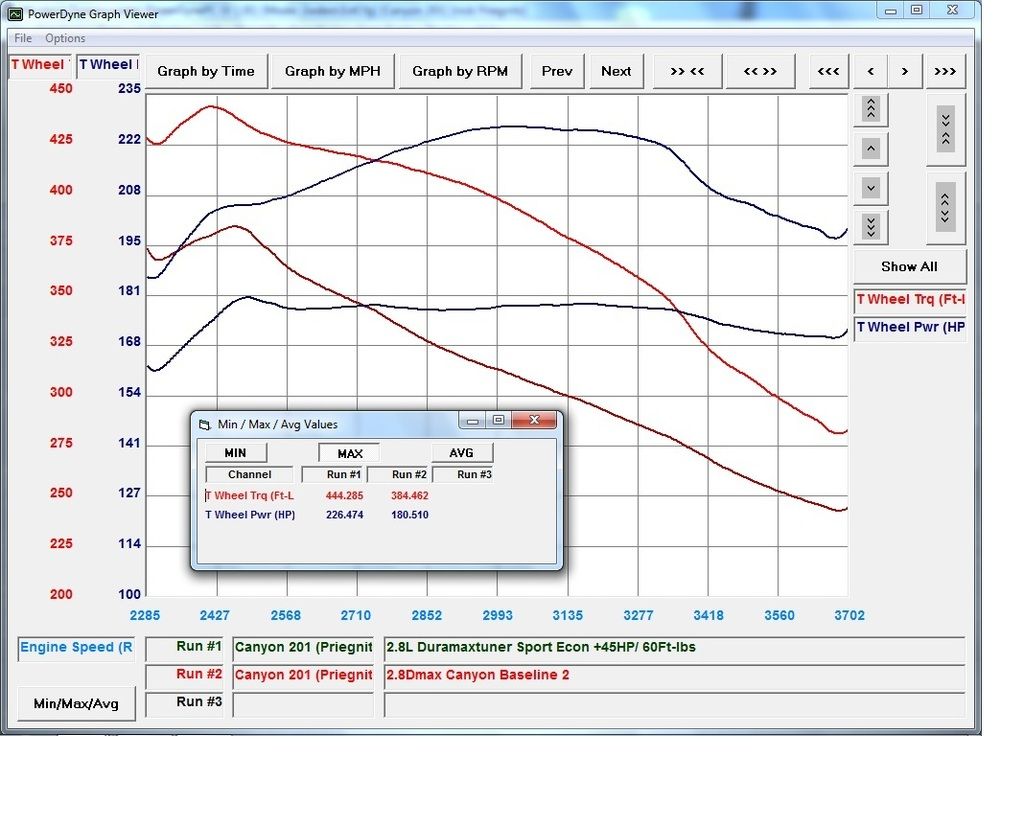 4. Performance Tune (+52HP/80Ft-lbs):  No explanation needed.  This is the edge of performance balanced with long term reliability.  Enjoy!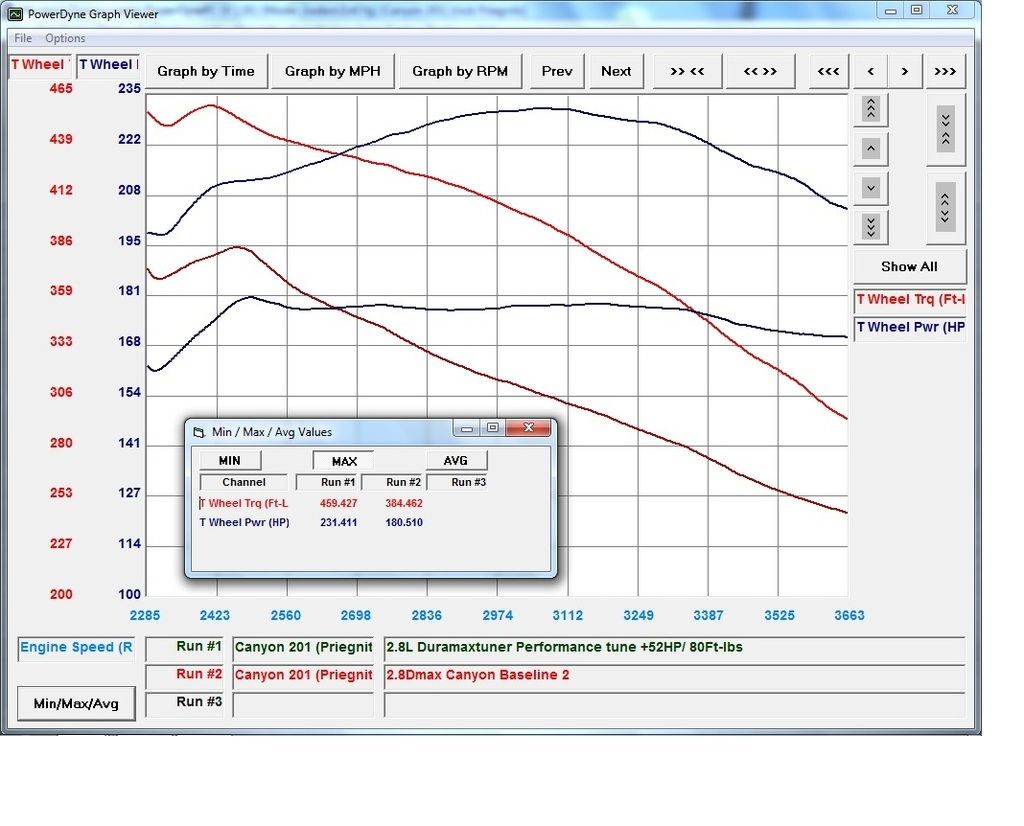 **We advise against prolonged use of the Performance tune
**We advise against towing in the Performance tune
**THIS PRODUCT IS FOR THE 2016, 2017 & 2018 MODELS ONLY.  2019 MODELS ARE SUPPORTED BY OUR SINGLE TUNE SPADE
Click HERE to listen to the first time drive of the tuned 2.8L Duramax Canyon by the Diesel Performance Podcast!