3.0L GMC/Chevy Silverado/Sierra 1500 LM2 Duramax 2 Tune Pack (2020-2021)
Get your 2020-2021 LM2 tuning from the experts. With the option to choose between 2 custom tunes designed to bring out the best in both top-end power and towing torque for the 3.0L Duramax. These tunes will improve the drivability and performance of your 3.0L Duramax using the same tuning methods we've honed over years of tuning the L5P to maximize reliability and longevity of the powertrain. 
Our custom tuning is exactly what the LM2 needs to wake it up and unlock its true performance potential. Combining the engine tuning with T93 Transmission tuning is the ultimate way to match your transmission holding capacity, shift schedule, and torque converter clutch engagement to the new found torque of your 3.0L Duramax allowing it to lug like a diesel. LM2 ECM Unlock Service, ECM Tune, Hardware, and Credits included. 
Get The 2 Tune Pack For LM2 Duramax
Benefits:
Eliminates all feeling of dead pedal

Speed limiter adjustments for tire size

Smart remember function keeps your truck's settings locked in place even after tuning off the vehicle

Start/Stop function

Tow Haul function

Better performance in higher elevations

More torque in all engine operating ranges (RPMs)

Dramatically improved power at higher RPM's

More confident towing

Truck feels lighter when accelerating even with a load

Improved towing performance hauling maximum payload

No need to remove your factory emissions equipment

Reduced soot production/build-up

Maintain factory levels of reliability
Here's How It Works...
Once you place your purchase with us w

e will send a shipping label to your email 

Then remove your ECM and use the provided shipping label to ship them to us
Once we receive it we will begin the unlock process (Which takes 1-2 days)

When your ECM is unlocked we will ship it back to you with tuning hardware and tune files

You will then be ready to install them back into your truck and install our custom-tuning



Custom Tunes: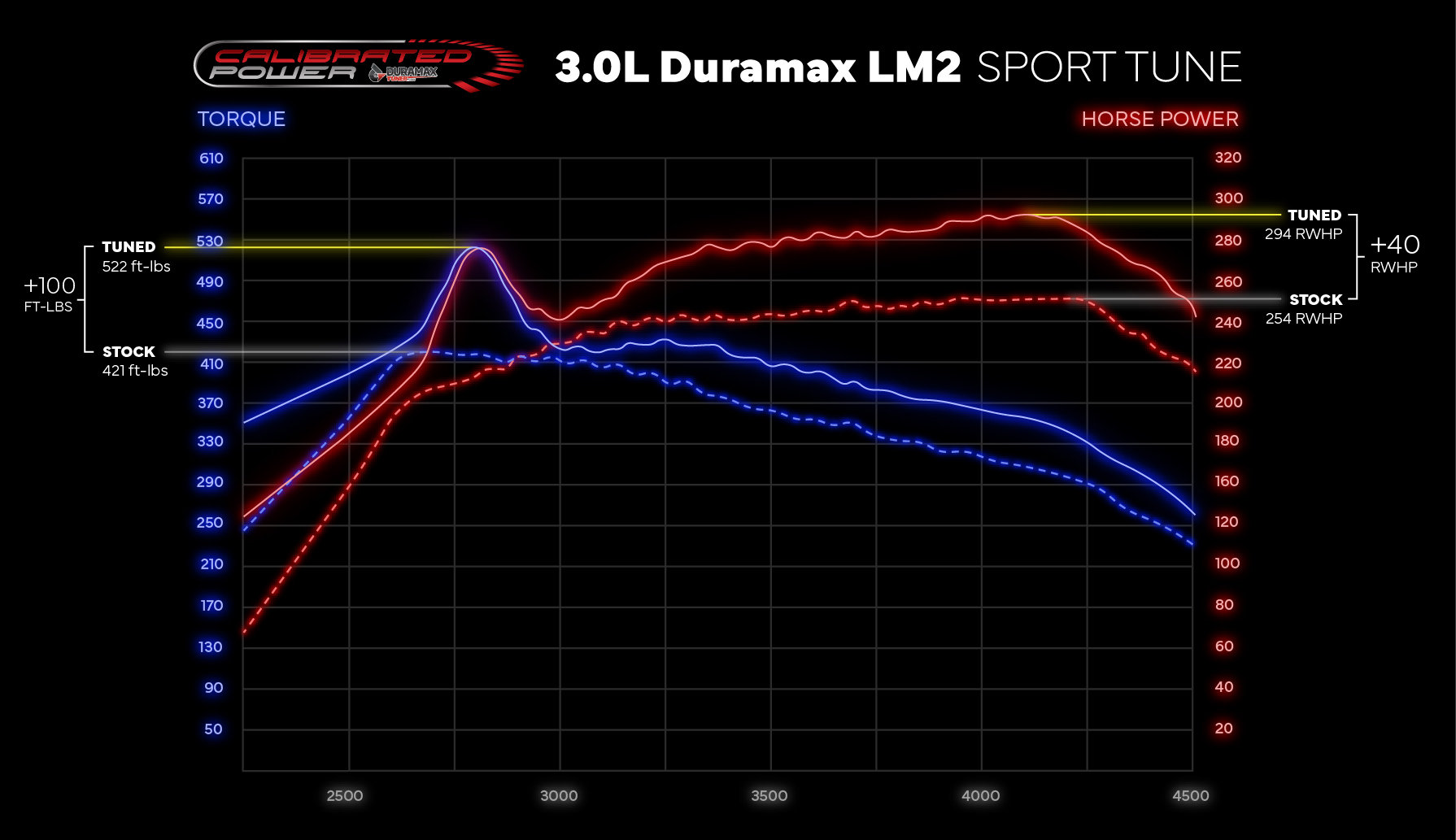 Sport Tune
Improved Horsepower & Torque +40 RWHP +100 ft-lbs
Immediate throttle response, no dead pedal feeling

Significantly wider torque curve

Smooth power curve that

'

s fun to drive 

Most power & torque you can add while maintaining OEM levels of reliability

Thermal backdowns automatically manage your EGTs and other engine temperatures to back power down before damage occurs
Fun Mix of Power and Superior Drive-ability
Quick acceleration - Truck feels lighter

Great balance between performance and everyday drivability

The throttle pedal responds exactly how you want it to

Factory turbo brake retains complete functionality

Too much power to safety tow without proper gauges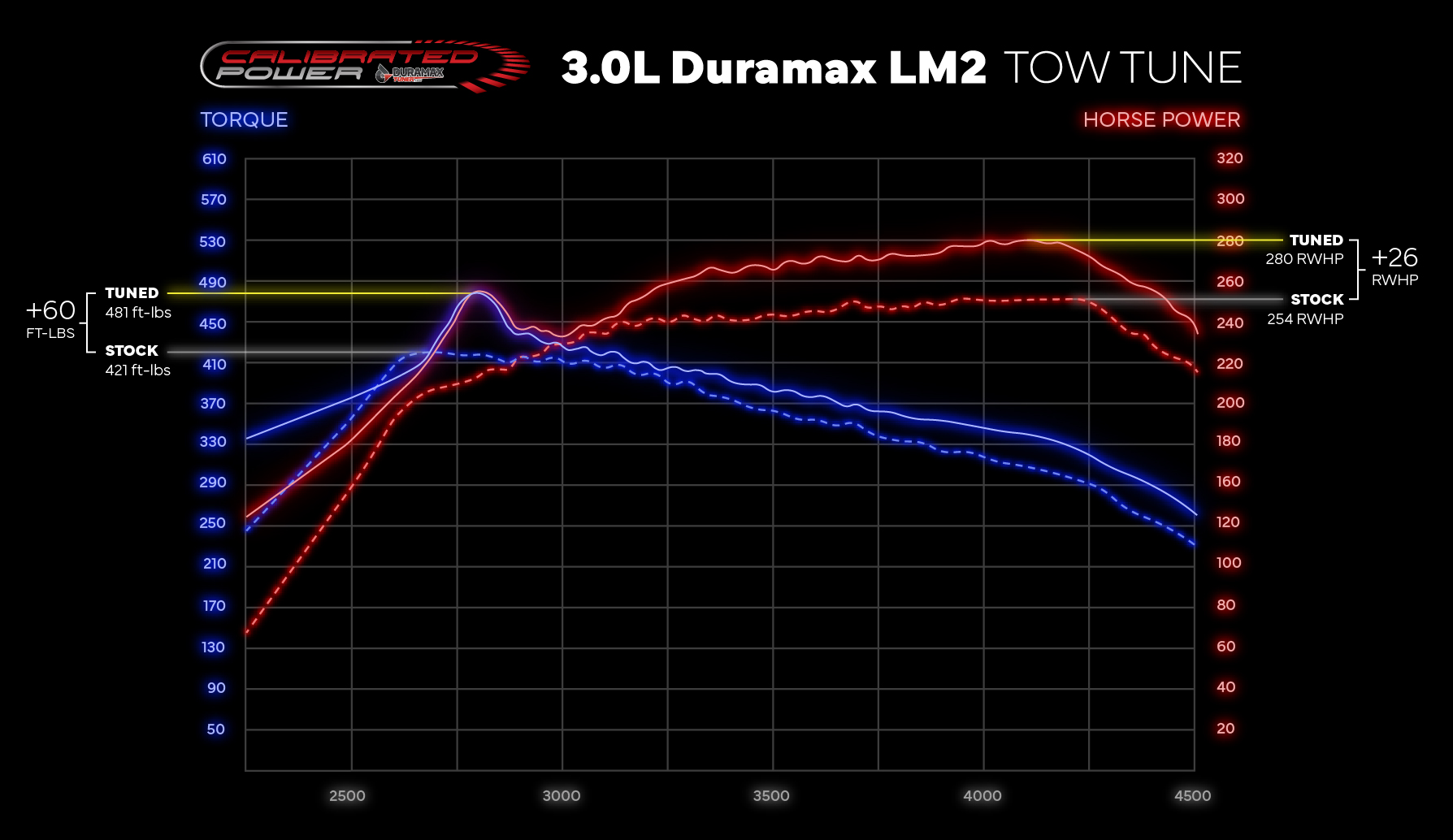 Tow Tune
Balance between Daily Driving and Towing
Air-Fuel Ratio limits built into calibration to limit soot production

Designed for towing up to 9,000 lbs. 

Factory turbo brake retains complete functionality
Horsepower & Torque Increase +25 RWHP +60 ft-lbs

Get your truck up and moving more quickly

More useable power in all driving scenarios

Have enough power to

"

Shift Up, Throttle Back"

Get your trailer up and moving more quickly

Air-Fuel Ratio limits built into calibration to limit soot production
Revised pedal sensitivity
Low-speed trailer maneuvering

Back up with trailer without lurching
Included Service:
Unlock Your Stock LM2 ECM Service Included (Engine Control Module)
Remove your factory ECM and use the shipping label we email you to send it in

All shipping charges are included in this price

We will expedite the unlock process for you and return your ECM ready for tuning to be installed

Your other Included Hardware will ship to you with your Unlocked ECM

We generally turn Unlocked ECMs in around within 2 business day
Custom Tuning
Street Tune +40 RWHP +100 ft-lbs

Tow Tune +25 RWHP +60 ft-lbs

Included Hardware:
MPVI3 Hardware by HP Tuners Included
Connect > Read > Edit > Write > Drive.

Equipped with Bluetooth®, Proprietary Expansion Port, and Mobile Device Support

Makes it faster and easier to read, edit, and write your vehicle

'

s software.

VCM Editor and VCM Scanner and programming/USB cables, making up the essentials of VCM Suite - one of the most powerful and inclusive scanning, diagnostic, logging, and calibration products on the market.

Full support for our latest rendition of Track Addict - the fastest scanning, logging, and data transmission rates to ensure you capture everything.

VCM Scanner is the most powerful and comprehensive scan tool on the market.

View, chart, and log diagnostic data in real-time via the OBDII diagnostic data port.

View and clear Diagnostic Trouble Codes (DTCs) along with other vehicle module information. Command control functions like a closed loop, fans, gear select, timing, air-fuel ratio and so much more all in real-time. 
HP Tuners Universal Credits Included
6 credits are required for ECM tuning


Why Choose DuramaxTuner.com Custom LM2 Tuning?
DuramaxTuner has 15+ years of experience tuning Duramax trucks

Designed to be safe for your engine and emissions equipment 

Fully customized tuning with 100+ calibration changes from stock

No hacking wires into control units or fuel pump and turbo sensors

More power and less soot than box programmers

World Class Customer Service Phone Support!
Warning: This product can expose you to chemicals that are known to the State of California to cause cancer. For more information, visit www.P65warnings.ca.gov