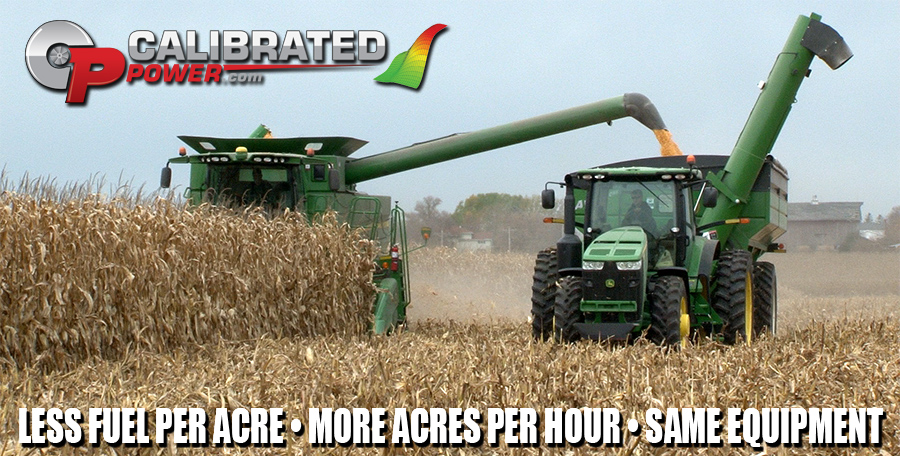 Before you buy a new tractor to accommodate the power demands of a new plow, planter, or other implement, you should consider saving money by uprating your current equipment. Up-rating not only adds value and capability to your current tractor, but has a minimal impact to the equipment's reliability. Calibrated Power Solutions now offers engine up-rates that achieve new power levels without replacing your current tractor, saving you the need to buy a higher powered model.

Our up-rates increase power over the entire operating range of the engine. Usually this allows the use of a higher gear and 2-300 less RPM which translates to fuel savings. Furthermore, the extra power allows for higher ground speed where applicable - allowing you to cover more acres per hour.

Reliability is a major concern for us. We've done engine calibration analysis on all of the models in your series. We know what it takes for the manufacturer to get more power. We use that as our road map to keep powertrains operating within the safe limits set out by the manufacturer for use in their higher end models utilizing similar powertrains. Furthermore, our product has no wires or connectors that will corrode over time. It keeps your tractor looking completely factory stock.

Please fill out the form below for more information on how to increase your productivity, while decreasing your operating cost.



Video Testimonials
Testimonials
Case MX240, 70hp up-rate, SD John Deere Deep Ripping - They increased the power by 70 horse. We can go a gear faster and the RPM always stays the same. Other years we'd have to shift down and play with the shifting all the time. Now we're in ninth gear and the motor doesn't vary in RPM. It's working the motor and we're getting more work done than we did in other years. Even going up the slight hill we have here the RPM doesn't change, so it's got all the power we need for what we're pulling. To me it's like going from a four cylinder car to a six cylinder. It's just like night and day. -Kevin Walter
John Deere 9400, 100hp up-rate, 512 John Deere Deep Ripping - When you're working compacted ground, the tuned 9400 doesn't have to work as hard. Before it would bog down a little and you had to lift the ripper up a little. Now it just goes right through it. It's a big change. You're going almost a mile an hour faster. -Hayden Fruin
John Deere 8245R, 70hp up-rate, Pulling a 1094 Brent Grain Cart - On the grain cart, on the big 8245R, we've got 55,000 pounds of corn on there- the thing's loaded, going up a slight hill, you can grab that other gear to go faster, definitely a night and day difference.During unloading - before you could only open it to eight, or nine at 2,000 RPM's. PTO, it was struggling with the gate open to eight or nine. Now we open the gate all the way to 10 with RPM's at 2,000. Definitely does the job. -Tyler Creath